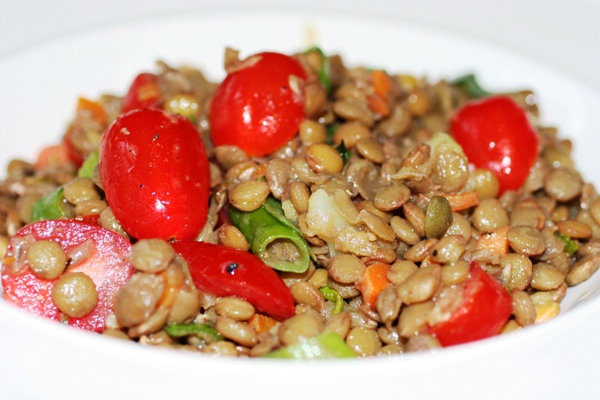 Not only does this taste great and light, but it is very healthy and loaded with fiber and nutrients! This tastes best when made ahead of time and it is best the next day.
Below are a few things you could add to this to make it even better!
feta cheese
grilled chicken
diced cucumbers
What are your additions?
Summer Tomato Lentil Salad
Ingredients
For the Salad
1 cup dry lentils
2-3 diced carrots
1-2 celery stalks, diced (use celery hearts with leaves)
3 green onions, diced (separate white and green parts)
2-3 garlic cloves, minced
1 bay leaf
2 teaspoon fresh thyme (or 1 teaspoon dried thyme)
3 tablespoons parsley, chopped
1 teaspoon salt
½ teaspoon ground pepper
1 pint grape cherries, halved
For the Red Wine Vinaigrette
½ cup red wine vinegar
¼ cup fresh lemon juice
2 teaspoons honey
2 teaspoons salt
¾ teaspoon freshly ground black pepper
1 cup extra-virgin olive oil
Instructions
For the Salad
Put lentils in medium pot and cover with water.
Cook for 15-20 minutes until lentils are tender.
Strain water and put into a large salad bowl.
In same pot, saute carrots, celery, thyme, bay leaf, garlic and white parts of green onions until tender and transparent.
Add sauteed vegetables to lentils, tomatoes, and salt and pepper.
Toss with Red Wine Vinaigrette to taste.
Refrigerate for 1 hour and serve.
For the Red Wine Vinaigrette
Mix the vinegar, lemon juice, honey, salt, and pepper in a blender. Then gradually blend in the oil. Season the vinaigrette, to taste, with more salt and pepper, if desired.
Recipe developed by Kelly Hancock ©2010 Faithful Provisions. For personal use only. May not be reproduced, reprinted or distributed for capital gain without prior permission from Kelly Hancock.