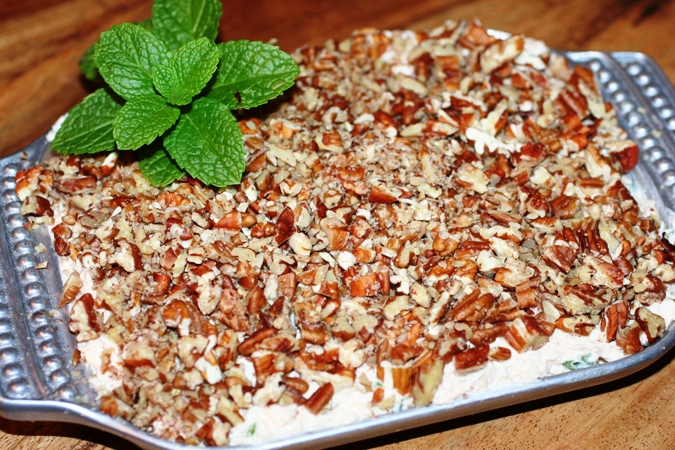 If you like cream cheese and chicken, you will love this simple make-ahead appetizer. This Chicken Cheese Dip appetizer is creamy and rich, but there is one secret ingredient…Frank's Red Hot Sauce. Yes, and I like to use quite a bit of it, it gives this appetizer a nice little kick.  Not too hot, but absolutely loaded with flavor.
It actually tastes better when it is made the day before so the flavors can marinate together. This was one of the dishes I had for my husband's 40th birthday party and it was a huge hit! I like it simply served with either wheat crackers or triscuits.
Enjoy.
*Note: For those with nut allergies, you can easily omit the pecans. Also, don't discard the pineapple juice you strain, save it and put into ice cube trays for smoothies.
Chicken Cheese Dip
Ingredients
1 16-oz can white chicken, drained
1 small can crushed pineapple, drained*
1 8-oz package cream cheese, softened
2 tablespoons sour cream
2 tablespoons mayonnaise
3 green onions, chopped
2-5 tablespoons Frank's Hot Sauce (depending on how hot you want it!)
1 cup pecans, chopped
¼ cup freshly chopped flat-leaf parsley (optional, or for garnish)
Instructions
Combine chicken, pineapple, cream cheese, sour cream, mayonnaise, green onions and hot sauce. Gently mix until combined.
Place into your favorite small serving dish and top with pecans. Another option is to form into a ball. If you choose to form into a ball, roll the ball in chopped pecans.
If you are going to chill before serving, wait to top with pecans until serving. Lay a line of parsley down the center for garnish. Or take a large beautiful sprig and tuck the stem into the center of the dip.
*Cook's Notes:Be sure to drain the chicken and pineapple very well. If not, it will be too watery. Also, unless you are serving to a group, omit the parsley unless you have it in your garden. It is an unnecessary expense.
Recipe developed by Kelly Hancock ©2010 Faithful Provisions. For personal use only. May not be reproduced, reprinted or distributed for capital gain without prior permission from Kelly Hancock.