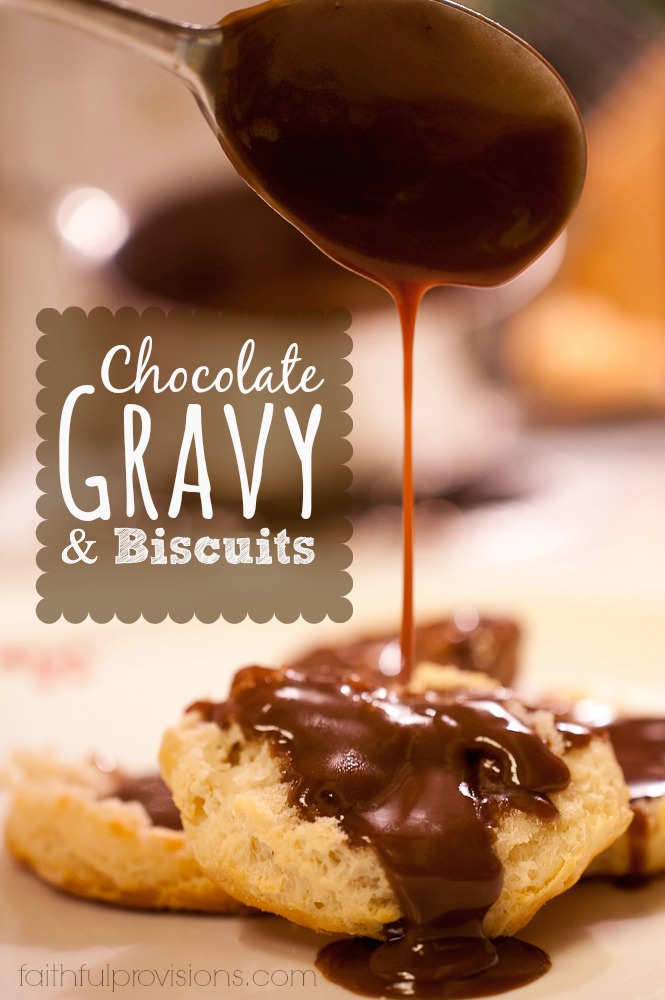 If you've never enjoyed Chocolate Gravy and Biscuits, then it's about time you did! This is one of my favorite Recipes for Christmas Brunch, but it is very hard to limit it to only once a year.
*Scroll down to use print recipe feature and add to your Recipe Box.
We Southerners are known for our love affair with biscuits. They are our very best comfort food, smothered in sausage gravy, jam, honey, or white syrup. For many, they are a staple at every meal. My husband Bradford grew up on a farm in Kentucky, and I spent plenty of time on my grandmother's farm in Tennessee, and biscuits were a part of daily life. As we are raising our own family, we don't get a daily dose of those flaky, floured layers since we are really trying to learn how to be healthy. However, on the special occasions when we do indulge, we go for it by drenching ours in my grandmother's specialty: Chocolate Gravy.
I hope you love this recipe as much as my family and I do! I know your kids will be crazy about it. To enjoy these like a true Southerner, you really must put a generous pat of butter on the  biscuit. Then pour on the piping hot gravy. (The gravy will melt the butter, and it will taste amazing!) Don't worry if you are not a baker and you don't want to try making your own biscuits. The Pillsbury freezer biscuits go on sale often. (Check my Coupon Database for coupons.) These aren't quite as good as homemade, but they sure do come pretty close.
Chocolate Gravy and Biscuits
Ingredients
For the Chocolate Gravy
½ cup sugar
1 ½ tablespoons all-purpose flour
1 ½ tablespoons dutch cocoa powder
¼ cup milk
½ cup water
4 tablespoons butter, cubed
1 teaspoon pure vanilla extract
For the Easy Biscuits
8 ounces heavy whipping cream
1 ½ cups self-rising flour
Instructions
For the Chocolate Gravy
Whisk together dry ingredients in a small saucepan.
Once combined, add milk and water.
Bring to a boil over medium heat, whisking constantly until thick and bubbly, approximately 3-4 minutes.
Take off the heat and stir in butter and vanilla.
Serve immediately while hot.
For the Easy Biscuits
Combine cream and flour in a large bowl.
Roll out and cut biscuits with a round cutter.
Bake at 375 degrees for 20 minutes until golden brown.
Brush with melted butter.
Serve biscuits open-faced, topped with butter, and drizzled with chocolate gravy.
Photo Credit: Tyler Andrews Photography
You might also like these Breakfast and Brunch Recipes:
Find all my Breakfast and Brunch Recipes HERE
Recipe developed by Kelly Hancock ©2010 Faithful Provisions. For personal use only. May not be reproduced, reprinted or distributed for capital gain without prior permission from Kelly Hancock.