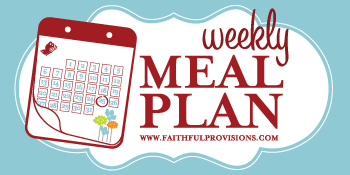 For ideas in your weekly meal plan, I'm listing some of the things on sale at your grocery stores, and then following that with recipes from my Recipe Box that coordinate with those sales. Let me know if you like this and if it helps you out with your weekly meal planning.
*If you think the weekly meal plan is something your friends could use, please share it on Facebook using the button above!
Click on a Plan Below
My Weekly Meal Plan
Last week I got pretty well stocked with produce (spinach, apples, pears, bananas), milk and bread, so we are pretty set. I"ll probably make a quick trip to grab any great stock ahead deals and replenish any produce needs we might have.
Sunday: Community Group Dinner Out (Baked Oatmeal for Brunch)
Monday:  Crock Pot Roasted Chicken* , roasted onions and sweet potatoes, steamed broccoli
*We will use the leftovers from this for this weeks meals and freeze the carcass to make Homemade Chicken Stock.)
Tuesday: Crock Pot Black Beans (new recipe, will post later!)
I'll serve this with some leftover shredded beef brisket I have in the freezer and serve it with corn tortillas.
Wednesday:  Homemade Chicken Noodle Soup, cheese bread (hope to post this one too!)
I will use the Homemade Chicken Stock  and leftover chicken from Crock Pot Roasted Chicken, adding whole wheat wide (egg type) noodles with carrots and celery.
Thursday: Skillet Sicilian Steak with spinach salad, bread from freezer
*We purchased a 1/4 cow last year and have tons left, organic spinach from Costco and veggies in fridge, topped with a dressing.
Friday:  Black Bean Pizza, spinach salad (or make a BBQ Chicken Pizza with leftover chicken)
*Use leftover Black Beans from crock pot on Tuesday and top with freezer veggies.
Saturday: Dinner Out
*We have started attending out Saturday night church service and we use our local coupon book to get a half price dinner out!
What is on your weekly meal plan this week? I'd love to hear your ideas!
Any Store Meal Plan
As you're putting together your weekly meal plan, remember that there are some items that are always going to be on sale during the month of January, no matter where you shop, such as these seasonal items:
*Click on the links below to go directly to recipes for each item!
Avocado (*See all my Avocado Recipes HERE)
Cabbage
**It's National Oatmeal Month, so you'll find oatmeal products on sale everywhere, too. Be sure to check out all my Recipes for Oatmeal HERE.
Plus, as you plan for your Super Bowl Party, you'll see lots of sales on chili fixings (beans, tomato sauce, chili seasonings), ground beef, chicken, and chips. These recipes will be money-savers wherever you shop perfect for your super bowl party:
Find out What to Buy When in January, and stock up on food items at their lowest prices!
KROGER (Prices good all week)
Kroger is featuring a Game Day Greats Mega Event for you this week to help you save for your super bowl party. You'll like the Hormel Sliced Pepperoni or Salami, 3.5 oz ($1.00), Perdue Split Chicken Breasts, Drumsticks or Thighs ($.99/lb), and Kroger Ground Chuck ($2.79/lb) in the meat department.
There are also tons of great deals in the produce area: Kroger Yellow Onions, 3 lb bag ($1.79), Hass Avocados ($1.00), and Bananas ($.38/lb). Buy extra bananas to flash freeze and add to smoothies! Kroger cheese in on sale too.
STOCK UP on these items, and be sure to check out our Kroger coupon matchups so you can save even more (price listed is after coupons): Hunt's Tomatoes or Paste ($0.39), Kraft Salad Dressing, 16 oz ($1.42), Post Cereal, select varieties ($.99), and Hormel Chili or Chili Master ($.72).
Eating organic on a budget? This week, you can save on Mom's Best Naturals Cereal ($.49), Horizon Organic Milk, 3pk/8 oz ($1.94), and Organic Salad Mix ($2.99).
::  See all the Kroger Deals HERE.
PUBLIX (Shop before prices change on Wednesday)
You'll save money when you purchase in season Florida Oranges 4 lb bag, or Tangerines, 3 lb bag ($2.50) this week. Also, if you're working on your 2012 Goals, you'll find Weight Watchers Smart Ones, 3.95 to 12 oz ($2.00), Kashi Cereal, 10.4 to 17.5 oz ($2.99), and Starkist Tuna Premium Chunk Light 2.6 to 3 oz (FREE with my coupon matchups). Plus, if you're looking for deals that help you with eating organic on a budget, Eggland's Best Eggs are $1.29/dozen with my coupon matchups. (You can stock up on eggs! Check out my post, How to Freeze Eggs.)
In the meat department, the Cumberland Gap Semi-Boneless Ham ($1.89/lb) will be great for sandwiches, and the Ground Chuck ($2.79/lb) is perfect for Texas Chili.
STOCK UP on these BOGO items, and be sure to check out  our Publix coupon matchups so you can save even more (price listed is after coupons): Quaker Oat Hearts cereal ($.64), selected varieties of Kellogg's cereal ($1.51), Pompeian Imported Olive Oil, 16 oz ($1.99), and I Can't Believe It's Not Butter! Spread, 8 to 10 oz, 16 oz box, or 7.5 oz 2 pk ($.23).
::  See all the Publix Deals HERE.
More Resources
I have new Shopping List templates available for you. Whether you are shopping at one store or multiple stores, you can keep things organized with these FREE downloadable lists.