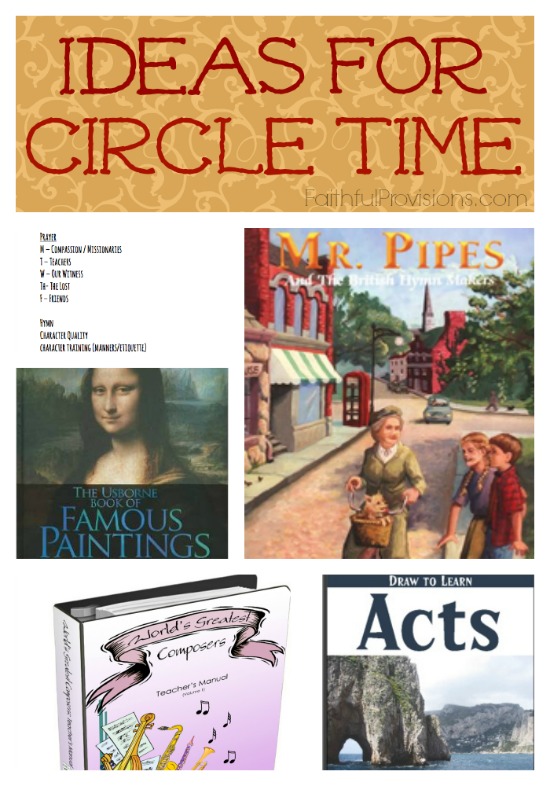 This year in homeschooling we are changing things up just a little bit. Last year we added the concept of "Busy Bees" which worked wonderfully and we will carry over into this year. However, I've become more aware of the need to spend more time actually "training" my children in the way they should go (Proverbs 22:6). This idea came from my friend Abby who is a homeschool ninja (I hope to be able to link to some ideas from her soon once she gets her own blog up and running!)
Circle Time is a new addition that we start our day with. Basically, it is a time for us to get our day started right and an opportunity for me to take a proactive approach to training my children. I used to constantly get frustrated with my kids when they didn't know something I thought they should.  Instead, I've started a running list of things I want them to know how to do as a young person.  We're able to talk about them and even role play some scenarios. It has actually turned into a really fun time for the kids!
What we talk about in Circle Time changes some days, but the kids love the idea of sitting in a circle together to start our day.  I have to say I do too.  Currently, our Circle Time includes the following:
Calendar – We review the date, month, day of month and year.
Prayer – We pray for something different each day of week.  In addition to this, I am also teaching them how to act during a prayer. For example: sit quietly, head bowed, hands together. We also talk about "why" we pray this way (so we can be respectful and actually listen to others!)
M – Compassion Child
T – Teachers
W – Our Witness
Th – Missionaries
F – Friends
Character Quality Training – We're currently working on these Character Qualities (more on that later!)
Training for Manners/Etiquette – I keep a running list of things I want them to know.  Things like how to speak in a conversation, no interrupting, holding the door for others, how to answer a phone, etc.
Famous Painting – We are using The Usborne Book of Famous Paintings.  I'm looking at doing one per week.
Hymn of the Month – We learn one hymn per month (in conjunction with our Mr. Pipes books)
Bible – We read a passage in Acts from our Draw Through Acts curriculum (I went with the ebook on this and am SOOO glad. It makes it so much easier to make a copy for each child. )
Draw Through Acts Notebook – We draw pictures about our passage in Acts while listening to our Composer of the Month.
How do you begin your day? Do you have any new additions to your homeschool routine?  I would love to hear how you begin your day.