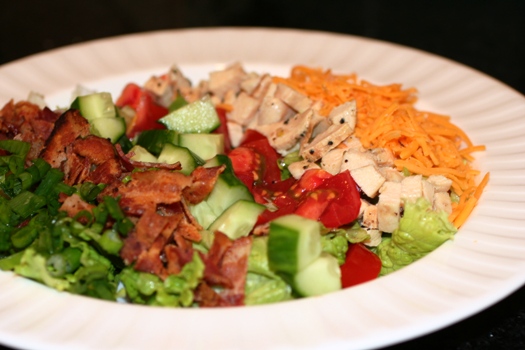 This was inspired by a bunch of leftovers in my refrigerator that I didn't know what to do with.  Plus we were in need of some greenery. So, I used what I had on hand to make my version of a Cobb Chef Salad. You can add anything you like.
If you have been following me long, you know I don't really go by a strict recipe, I kind of wing it. So below I will just list the ingredients and you determine the quantity. If you really like an ingredient, add more of it. (For example, I used cucumber, green onions, and shredded cheddar to fill in for other ingredients I didn't have.)
Cobb Salad
Ingredients
Cobb Salad
1 head romaine lettuce, washed and torn (or favorite kind)
Hard boiled eggs, diced
Bacon, crumbled
Fresh herbs (your choice)
Diced cooked turkey or chicken
Avocados, diced (see how on my avocado tutorial)
Tomatoes, chopped
Blue cheese, crumbled
Dressing – creamy blue cheese or a vinaigrette does well
¼ cup red wine vinegar
1 teaspoon Worcestershire sauce
½ teaspoon Dijon mustard
1 clove garlic, minced
¼ teaspoon coarse salt
½ teaspoon coarsely ground black pepper
⅓ cup extra-virgin olive oil
Instructions
For the Salad
Arrange salad ingredients according to your preference.
For the Dressing
In a small bowl, whisk together the wine vinegar, Worcestershire sauce, mustard, garlic, salt, and pepper. Using a fork, mash in the remaining 1 ounce Roquefort cheese to make a paste. While whisking, slowly drizzle in the olive oil to form a thick dressing.
Recipe developed by Kelly Hancock ©2010 Faithful Provisions. For personal use only. May not be reproduced, reprinted or distributed for capital gain without prior permission from Kelly Hancock.