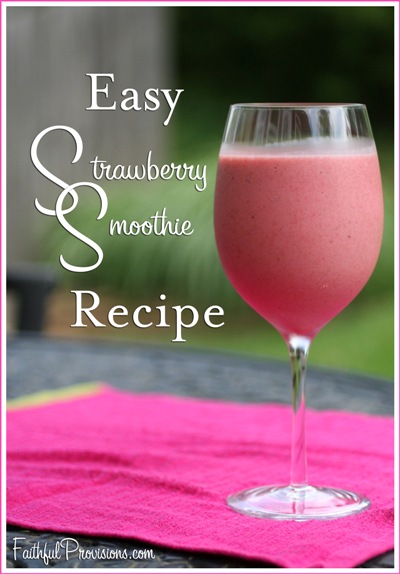 This is a very easy Strawberry Smoothie Recipe, only three ingredients! With all the sweetness of the strawberries and bananas, you can omit adding any sugar.  And, if you can use frozen fruit, you don't even need ice. I prefer frozen fruit over ice because it gives the smoothie a very creamy texture.
*Scroll down to use print recipe feature and add to your Recipe Box.
Substitution Ideas
Here are some alternate ingredients to use depending on what you have on hand:
Substitute banana for 1/2 a cup yogurt and 2 tablespoons of honey or one large scoop of protein powder
Substitute frozen strawberries for fresh strawberries, and a frozen banana instead of fresh banana.  Or use fresh fruit adding 1 cup ice.
Substitute milk for any juice like orange, apple, or grape
Leave a comment below if you need a little direction on how to modify the recipe to work with what you have on hand. That is my favorite way to work in the kitchen!
*Be sure to check out more twists on this recipe by using my Strawberry Banana Smoothie Recipes HERE or a recipe for Strawberry Smoothie with Oatmeal.(coming soon…)

Leftover Smoothie?
Looking for a way to use your leftover strawberry smoothie?  Try pouring into Popsicle molds for Strawberry Creamsicles. Or pour into ice cube trays and then transfer to a freezer bag.  Use them later in the blender with your favorite milk or juice.
If you have lots of fresh strawberries on hand, be sure to try out my Homemade Strawberry Ice Cream Recipe (just substitute for strawberries in this recipe) passed down from my grandmother. Heavenly!
Easy Strawberry Smoothie Recipe
Ingredients
1 cup frozen strawberries
1 ripe banana
¾ cup milk (2%, skim, almond, coconut, etc)
Instructions
Put all ingredients into a blender until smooth and creamy. Serve cold.
Pour leftovers into popsicle molds for homemade strawberry creamsicles.
Substitutions:
For Bananas: ½ cup yogurt and 2 tablespoons of honey or sugar
For Frozen Strawberries: fresh strawberries and 1 cup frozen bananas (instead of fresh banana) OR fresh fruit and 1 cup ice.
Recipe developed by Kelly Hancock ©2010 Faithful Provisions. For personal use only. May not be reproduced, reprinted or distributed for capital gain without prior permission from Kelly Hancock.