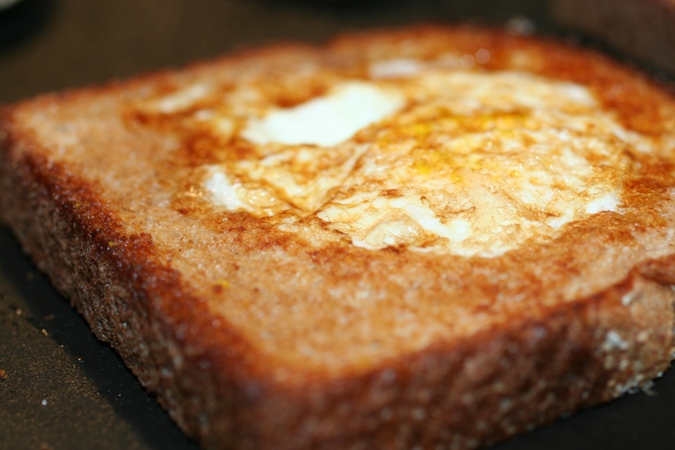 Eggs in a hole have become the kids absolute favorite thing for breakfast. They run a close second to our ever popular oatmeal that they have EVERY MORNING! I was really glad to find something new for them, plus it is a fun and very easy treat for breakfast. Their favorite part are the "holes" on the side that I toast with butter.
*Scroll down to use print recipe feature and add to your Recipe Box.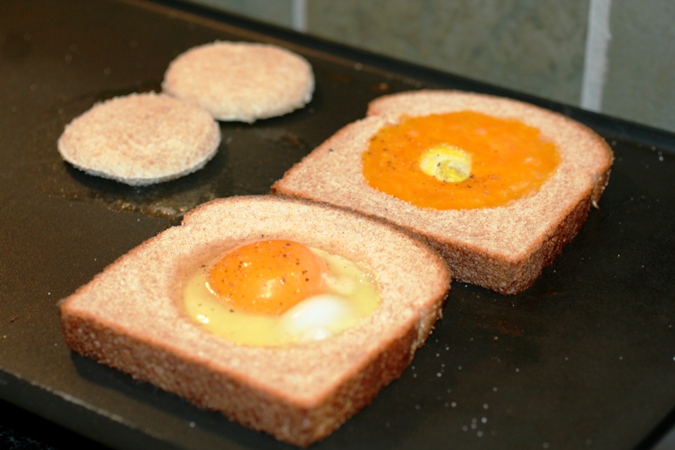 We bought an electric griddle during Black Friday last year, and I use it almost every day. Using the large griddle surface allows me to make everyone's eggs at one time. My daughter and I love our eggs over-easy, but my husband and son will have nothing to do with what they term as "runny" eggs. They like theirs good and scrambled. So, before putting the eggs into the "hole," I give them a quick whisk in a small bowl before pouring them in. Everyone is happy. Not a bad way to start the day!
Egg in a Hole
Ingredients
1 egg
1 slice of bread
1 slice butter
1 glass (for cutting out bread center)
Instructions
Heat a griddle to 350 degrees or medium heat. While heating, take a glass and cut out the center of the bread in the shape of a circle.
Take the butter slice and spread it on the griddle. Lay both pieces of bread over butter.
Crack an egg and pour into the "hole" in the first piece of bread.
Turn the "hole" piece of bread and brown on both sides.
Turn the large piece with the egg inside over to your liking. I flip once the bottom has turned white and the yellow starts to set.
Serve with fruit and the circle piece of buttered bread.
Find more Breakfast and Brunch Recipes on Faithful Provisions!
Recipe developed by Kelly Hancock ©2010 Faithful Provisions. For personal use only. May not be reproduced, reprinted or distributed for capital gain without prior permission from Kelly Hancock.