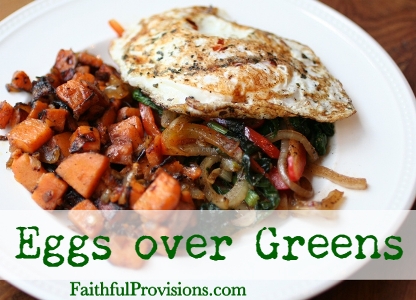 This recipe for Eggs over Greens is a great way to start the day.  It's full of protein and nutrients, especially if you add the Sweet Potato Hash in with it (as pictured above). Plus, using natural, nutrient-rich ingredients allows you to enjoy a healthy breakfast that will keep you going throughout the morning.
*Scroll down to use print recipe feature and add to your Recipe Box.
I use whatever greens I have on hand: spinach, kale, chard, even bok choy. You can design the base  to your personal tastes, by adding in even more vegetables and flavors you love, such as red pepper, green pepper, or mushrooms.
I recommend using coconut oil or grapeseed oil for this recipe. However, if you are making breakfast and serving bacon, and you already have bacon grease available, it truly adds a depth of flavor to this dish.
How to Cook Fried Eggs
There are a lot of variables when it comes to how to cook fried eggs. I've got four basic ways to show you. You'll have your skillet on medium heat for each option.  Keep in mind, especially if you use a cast iron skillet like I do, if you raise the heat too high, it will burn more easily.
Sunny Side Up – You don't have to flip the egg. Just crack it into your skillet and allow it to cook for about 3 minutes on one side. The egg white should be done. The egg yolk will still be runny. Remove gently from pan.
Over Easy – Crack the egg gently into your skillet and cook for 2 minutes on one side. Gently flip to cook for one minute on the other side. The egg whites are fully cooked, and the yolk is unbroken with a film on both sides. (This is my favorite! I like to break the yoke so that it flows out over the greens.)
Over Medium – After you crack the egg into your skillet, cook it for about 2 minutes on each side. An egg cooked Over Medium will have firm whites and the edges of the yolk slightly cooked. The center will still appear wet and glossy.
Over Well — You'll cook the egg for about 3 minutes on each side. The whites will be firm and starting to brown. The yolk will be fully cooked.
Eggs over Greens
Ingredients
4-5 cups of kale (or Swiss chard, spinach, your favorite green) cleaned and rinsed, with ends removed, chopped
1 tablespoon of oil (Try coconut, grapeseed, or bacon grease)
1 small to medium onion, diced
2 cloves of garlic, minced
¼ teaspoon red pepper flakes
1 teaspoon basil
Salt and pepper to taste
Instructions
In skillet, saute onions and garlic with oil until translucent.
Then add greens.
Once greens wilt down, add seasonings.
Remove from heat.
Arrange bed of greens on plate.
Fry your eggs in the same skillet—use more oil oil as needed.
After cracking open your eggs, sprinkle red pepper flakes, basil, salt, and pepper on eggs while they are face up.
Cook eggs according to your preference.
When done, lay over the greens.
You might also like: