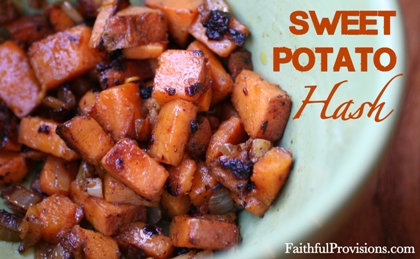 If you've never tried Sweet Potato Hash, you are going to love it. The best part is that you can use this recipe as a breakfast entree or as a side dish to any meal. My favorite way is to serve it is on a bed of greens, topped with eggs cooked over easy. I like to prick the egg yolks and have them run all over the hash and greens. That makes it taste so good!
*Scroll down to use print recipe feature and add to your Recipe Box.
Something else I love about this recipe for Sweet Potato Hash is that it is really healthy, depending on what you use as your fats, of course! I love using leftover bacon grease for this recipe, especially if I'm making the sweet potato hash for breakfast or brunch and I'm serving bacon too. Coconut oil, however, would be your healthiest option.
My preference is to cook this in my cast iron skillet or Dutch oven. Depending on how much moisture is in your potatoes, as your sweet potatoes cook, you may have a lot of browned, caramelized bits of sweet potato and onion left on the bottom of your skillet after you cook the hash.
If this happens, you can use a little vegetable broth (around 1/4 of a cup–just barely enough to cover the bottom of the skillet) to deglaze the dish, or more simply, to scrape it and get all those flavors up. If you don't have any vegetable broth, use water. Whatever you do, don't miss out–it's one of the best parts of this dish!
To really take this Sweet Potato Hash over the top with flavor, if you are making it for a breakfast dish, add bacon crumbles to the top–about ¼ cup of crispy, chopped bacon.
Sweet Potato Hash
Ingredients
3 medium sweet potatoes with skin on, diced
1 small onion, diced
2 cloves garlic, minced
½ teaspoon red pepper flakes (optional)
¼ cup to ½ cup vegetable broth (optional)
1 tablespoon coconut oil (or bacon grease, or your preference)
¼ cup crispy bacon crumbles (optional)
Salt and pepper to taste
Instructions
With skillet on medium heat, put oil, onions, and potatoes in first.
Cook until these get caramelized and a little soft. Then add the garlic. (Since the potatoes will take longer to cook through, I wait until later to add the garlic so it won't burn.)
Once sweet potatoes start getting soft (test doneness with a fork) then add some flavor with salt, pepper, and if you like, red pepper flakes. (If I'm serving the kids, I use red pepper sparingly.)
Deglaze the pan with a little vegetable broth or water.
Top with bacon crumbles (optional).
You might also like: