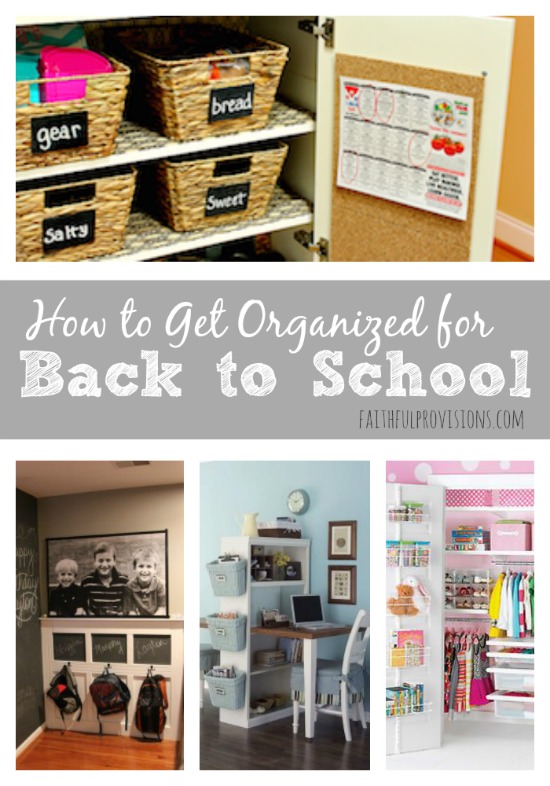 Getting Organized for Back to School
It's that time of year again: still hot and muggy, but school is creeping up on us right around the corner! Are you ready for back to school? Getting organized is easy with a bit of prep and planning.
Organize Back to School Supplies
You can easily get organized with back to school supplies by doing a quick check of your school's website.
Find the school supply list for your child's class.
Keep the list handy by printing it out or bookmarking it on your smartphone.
Check to see what you still have from last year.
Make a list of what you need.
Check the Back to School Sales page on Faithful Provisions for the best deals.
Stash all the items in a tub or tote for safe-keeping until the first day of school.
Label Everything.  Make sure your child's items don't find their way to Lost & Found.
Find out how you can save $5 on Bright Star Kids lables HERE.
Organize a Launch Station
Getting out the door with the least amount of frustration is much easier when you organize a launch station.
Designate a location for backpacks, sports bags, jackets and shoes. This can be a spot by your entryway or an area in each child's room that is clearly marked and easy to access.
Install hooks or add cubbies. Decorate an old chair to hold backpacks in the seat and shoes underneath.
Help your child learn to keep everything here for scooping up and heading out the next day.
Organize a School Lunch Station
Teaching kids to make their own lunch is much easier when you organize a school launch station. Making lunches in the evening (even part of the lunch) rather than in the morning is another time saver.
Designate a location for lunch bag/boxes, containers and food. This can be any location in your kitchen that is easy for kids to access.
Install baskets with labels for Ziploc bags, plastic utensils & reusable containers. If you need some "creative inspiration", check out this idea from Uncommon Designs.
Keep it stocked with healthy food, supplies & snacks.
Help your child learn to pack a healthy lunch. (This chart from Rage Against the Minivan gives some excellent direction for healthy eating when they are packing their own food!)
Organize School Clothes
Organizing school clothes can be done easily by taking time for a quick check of what still fits and what pieces need to be added.
Don't wait until the last minute. You'll find that selection in both color and size diminish greatly over the next few weeks.
Have your child try on everything. If it doesn't fit, determine if it can be passed to the next kid or given away. If it fits but she never wore it, it's time to get it out of her closet.
Make a list of what is needed. Include sizes, colors, and favorite brands so you can be prepared to snag any great deals.
Review your school dress code before heading out to shop.
Article by Faithful Provisions contributor Liz Jenkins, Certified Professional Organizer. See Liz's Top Ten Ideas for Getting Organized for a great school year HERE. Plus, Liz shows you how to organize that flood of school papers and permission slips HERE.