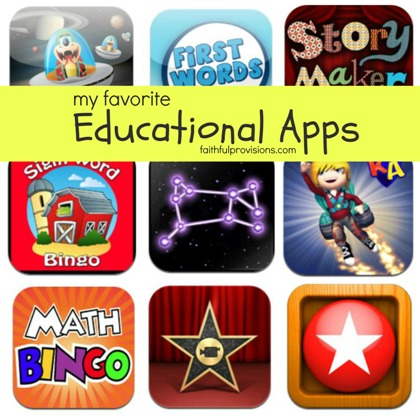 Below you'll find my favorite iPad educational apps that I use with my children, who are elementary-aged. Listed are the ones that we have tried and approved–and love to have fun learning with.
I love that the Faithful Provisions Facebook community is such a one-stop for answers. I can ask my readers anything and they always have just the right information for me. Recently, I asked my readers to share with me their favorite educational apps for the iPad. They came through with these great app suggestions. All of these are free, or almost free!
The "Teach Me" series
ABC Mouse Songs (FREE) – 26 animated music videos, one for each letter of the alphabet.
Multi Rap – Multiplication tables set to rap for easy memorization
Mathmateer (FREE) – math game
Find Sums (FREE) – a math game to help children learn basic facts for addition and subtraction
Cursive Touch and Write ($2.99) – for learning cursive that my kids love to use! It used to be free but I think it's $2.99 now
Flash to Pass (FREE) – math flash cards
Spelling Test (FREE) – create your own customized spelling test
Duo Lingo (FREE) – Reader Molly Brooks advises that this one is not exactly kid friendly, but "it is a free app that will let you learn full languages."
:: See all my readers' educational app choices on the original Facebook post HERE.
 Want more educational freebies?