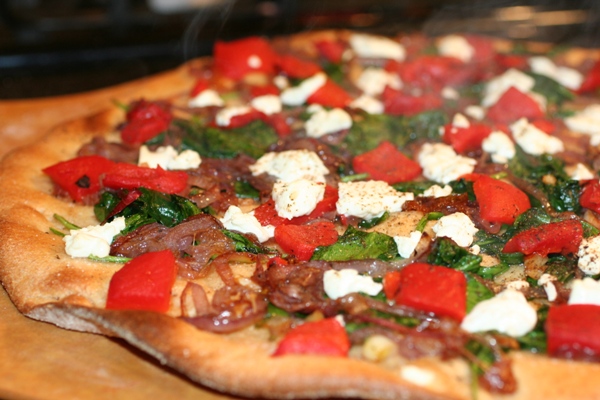 Of all the pizza's I have made, I think this might be one of my favorites. This is truly a "gourmet" pizza. This Goat Cheese Pizza is decadent, rich and even pretty healthy! The toppings here are my favorite but there are a variety of ways you could change this up. Here are a few other topping ideas you could change out according to your tastes.
pine nuts
sliced Roma tomatoes
roasted garlic
feta cheese
sun-dried tomatoes

Goat Cheese Pizza with Caramelized Onions
homemade pizza dough
1 onion, sliced (red or yellow)
4 cups fresh spinach
2 large garlic cloves, minced
1/3 cup roasted red peppers, large diced
3 ounces goat cheese
3-4 tablespoons  olive oil
Roll out a thin pizza dough and precook directly on oven rack for five minutes.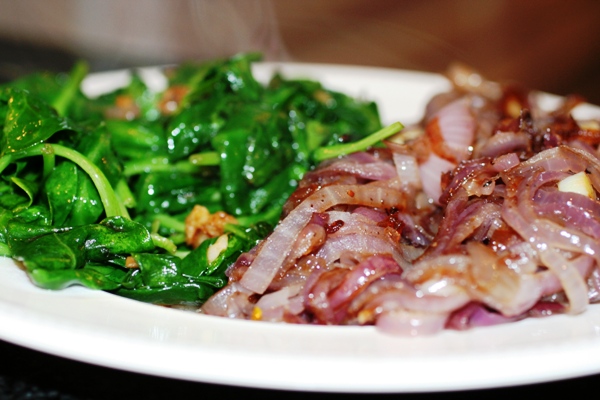 While pizza is cooking, saute onions until caramelized.  Remove and set aside.  In the same pan, heat 1 tablespoon of oil and add garlic and spinach. Cook just until spinach starts to wilt. Set aside to cool.
Remove pizza from oven and brush entire top of crust with a generous topping of olive oil.  Top evenly with spinach, caramelized onions, roasted red peppers and goat cheese.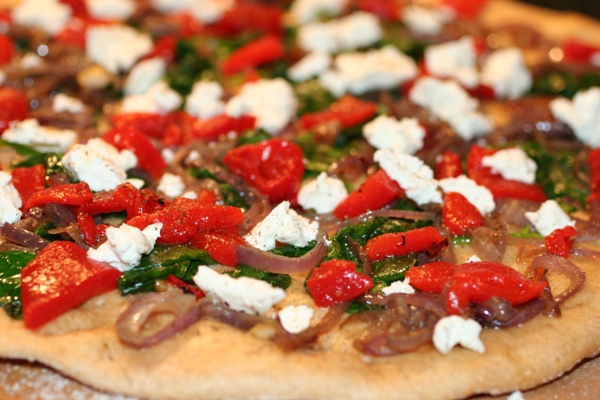 Cook in oven another 4-5 minutes.
Print Recipe: Click on the green "print friendly" icon at the bottom of this post, and check "remove images" for a printable version.
Recipe developed by Kelly Hancock ©2010 Faithful Provisions. For personal use only. May not be reproduced, reprinted or distributed for capital gain without prior permission from Kelly Hancock.