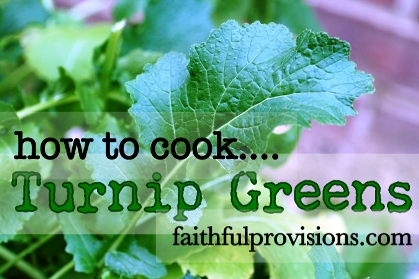 Do you know how to cook turnip greens? For the next several months, they will be in season and on sale. (Turnip Greens are on the list for What to Buy When: March.) I have never been a big fan of turnip greens, because when I was growing up, I always thought they were too bitter. In my family, they were cooked and flavored with vinegar.
Now, I love vinegar and anything that vinegar can be added to, but I still didn't love turnip greens. That all changed, though, one day when my husband surprised me. He made a batch of turnip greens, and um, WOW. I absolutely loved them! He prepared them the way that he grew up eating them: with bacon. And of course, the bacon makes it.  (Doesn't bacon always make a meal taste the best?)
COOK'S TIP: One of my tricks when cooking with bacon is to remove it from its original packaging in 3-4 strip portions and freeze. Then, while it is still frozen, I cut it into short, bite-sized pieces. This size is perfect for cooking in a dish like Turnip Greens or my favorite, Breakfast Burrito with Spinach and Bacon. It works beautifully and is less messy. Plus, I can easily control the portion size.
If you are a greens lover, you could use this recipe with just about any green: collard greens, mustard greens, kale, Swiss chard, and more. I particularly love this type of dish with a crowd at a family gathering or a holiday event. This season, you'll also like turnip greens with your Easter recipes of ham and Sweet Potato Casserole.
I serve this in soup bowls with bread for dipping. This is a very nutrient-dense meal, so don't let the broth go to waste. All the nutrients from the greens seep into the broth and are great for boosting your immune system. Many people boil greens and use the broth for health purposes.
Turnip Greens
Ingredients
8-10 cups turnip greens, washed and square cut
1 quart chicken stock
1 onion, diced
3-5 slices bacon, diced
1 teaspoon Mrs. Dash or Lemon Pepper Seasoning
Instructions
In a medium to large stock pot, cook onions and bacon over medium-high heat, until fully cooked, about 4 minutes.
Add stock, greens, and seasoning and bring to a boil.
Once boiling, reduce to a simmer for 30-45 minutes.
Serve in soup bowls with broth, and bread for dipping.
How do you cook your greens? What are your tips and tricks to making them turn out just right? I would love to know, so please share in a comment below.