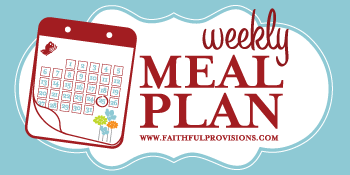 Need ideas for your weekly meal plan? I'm listing some of the things on sale at your grocery stores and then following that with recipes from my Recipe Box that coordinate with those sales. Let me know if you like this and if it helps you out with planning your meals this week.
*If you think it's something your friends could use, please share it on Facebook using the button above!
Click on a Plan Below
My Weekly Meal Plan
This week we got an email from our CSA that we could come pick up a share of strawberries!  I had purchased a half-price gift card from the CSA using my Plum District deal and I purchased $50 in organic strawberries to freeze for smoothies this year.  I got 6 gallon bags of frozen strawberries!! Plus, we are hoping to take the kids strawberry picking soon, and I think I am going to attempt my Grandmother Kelly's frozen strawberry jam.  I have dreams about that over warm homemade easy biscuits.
Sunday: Community Group Dinner (I am making brownies and Garlicky Kale for the group to go with a pot roasts.)
Monday:  Southwestern Burritos, garden salad with tomatoes (first batch from our garden!)
Tuesday: Mother's Day Out Chick-fil-A night
*This is also my first ever Online Bible Study, so go HERE for more information and to join me!
Wednesday: Garlicky Kale, Quinoa Salad with Red Wine Vinaigrette, Cajun Sweet Potatoes
*It this turns out well, I hope to share the quinoa salad recipe soon!
Thursday: Caramelized Onion Gourmet Burgers, sweet potato fries, green garden salad (from our garden lettuce!)
Friday: Pizza Night! Homemade Pizza Dough with Homemade Pizza Sauce
*Top with whatever is left in fridge, my new favorite is fresh chopped spinach, sliced tomatoes, green olives, peperocinis and artichokes.

Saturday: Dinner Out
*The family will be eating out, I am heading to the (in)courage (in)RL Event in Nashville, join me if you are in the Nashville area!
What is on your weekly meal plan this week? I'd love to hear your ideas!
Any Store Meal Plan
Berries, sweet oranges, basil, broccoli, and cucumbers are just some of the fabulous in season produce you will find on sale wherever you shop. (Print out my full listing on my Seasonal Fruits and Vegetables Chart.) Try these recipe ideas:
Find out What to Buy When in April, and stock up on food items at their lowest prices!
KROGER (Prices good all week)
This is the second week of the Kroger Cart Buster savings event, so there are several repeats from last week. In the meat department, you'll find great deals on Perdue Fresh Split Chicken Breasts ($.99/lb), Kroger Ground Beef ($2.19/lb), and Boneless Pork Tenderloin ($3.99/lb).
In the produce aisles, enjoy Bell Peppers: Red, Yellow or Orange, ($1.00/ ea), Sweet Corn, $0.33/ea), and Red Slicer Tomatoes ($1.29/lb).
LIVING GENEROUSLY: If you're participating in Couponing for Community (see my post HERE), here are great buys for giving:
Kellogg's Pop Tarts – $1.99
Rice A Roni or Pasta Roni – $0.88
Kellogg's Cereal, select varieties – $1.99
ORGANIC DEALS: Private Selection Organic Salad Mix ($2.99), Organic Red Delicious Apples ($1.39/lb), and Horizon Organic Milk, 8 oz single ($1.00). Buying organic? Check out my post, 8 Tips for Eating Organic on a Budget HERE.
Try these recipe ideas this week:
:: See all the Kroger Deals HERE.
PUBLIX (Shop before prices change on Wednesday)
Wow – this ad has a ton of BOGOs! There are several items to help build up your stockpile this week. If you've been thinking about getting started with meal planning and couponing, it is essential to build your stockpile with the items that you use most, buying them at the lowest possible price.
STOCK UP on Mueller's Pasta, 12 to 16 oz, (excluding Lasagna, Jumbo Shells, and Noodles) ($0.78), Eight O'Clock Coffee, 11 to 12 oz, (excluding Whole Bean or Decaf) ($2.99), Kellogg's Cereal: Raisin Bran, Raisin Bran Crunch, Corn Flakes, Crispix, or Raisin Bran Cinnamon Almond12 to 20 oz – ($1.97), Peter Pan Peanut Butter, 13 to 16.3 oz ($1.64), and Marie Callender's Entrees, 8.5 to 19 oz, (excluding Pot Pies) ($1.32).
LIVING GENEROUSLY: If you're participating in Couponing for Community (see my post HERE), here are great buys for giving:
Knorr Sides, 3.8 to 6.4 oz – $0.64
Peter Pan Peanut Butter, 13 to 16.3 oz – $1.64
Tuttorosso Tomatoes, 28 to 29 oz – $0.93
Hunt's Tomato Ketchup, 24 oz – $0.87
Publix has several great buys in the meat department: Boneless Top Sirloin Steaks ($4.99/lb), Pork Spareribs ($2.69/lb), and Oscar Mayer Turkey Smoked Sausage or Polska Keilbasa, 14 oz ($2.00).
In the produce aisles, find Florida Sweet Corn, ($0./ea), Florida Vine Ripened Tomatoes ($1.29/lb), Florida Green Bell Peppers ($1.49/lb), Florida Red Potatoes, 5 lb bag ($2.99), Bartlett Pears ($.99/lb), and Chiquita Bananas ($.49/lb).
Try these recipe ideas this week:
:: See all the Publix Deals HERE.
I always hope that I'm providing you with helpful content. If you found news you could use, please share it with your friends on Facebook. Thanks for telling others about Faithful Provisions!
More Resources
I have new Shopping List templates available for you. Whether you are shopping at one store or multiple stores, you can keep things organized with these FREE downloadable lists.