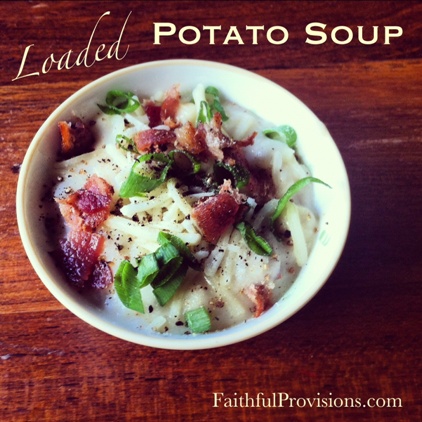 Last night I made this Loaded Potato Soup recipe and my family loved it–even the kids scarfed it down! With all the potatoes from our CSA still hanging around, it was a perfect winter way to use them. Now, this is definitely a comfort food, but I found some ways to make it a little lighter and healthier without taking away the flavor.
Modifying this Recipe for Loaded Potato Soup
When it comes to modifying this recipe for loaded potato soup, there are a few modifications you can do to reduce fat, but still have lots of flavor:
Milk – Substitute cow's milk for an unsweetened almond milk or a rice milk.
Sour cream – I used Greek yogurt to add more protein and less fat.
Bacon – You could opt for a turkey bacon, but we went full-on. This is one place I didn't want to cut back!
Loaded Potato Soup Recipe
Ingredients
4-6 medium red potatoes, roughly chopped
2 tablespoons butter or bacon fat
½ medium onion, chopped
2 cups chicken broth
2 tablespoons flour
½ cup sour cream (or plain Greek yogurt)
1½ cups milk (we used unsweetened almond milk)
Toppings:
Cooked bacon crumbles
Shredded cheese (cheddar or Monterrey jack)
Chopped green onions
Instructions
In a medium sauce pan bring water to a boil and drop in potatoes. Cook for about 20 minute or until tender with a fork. Drain, mash, and set aside.
While potatoes are cooking, take butter (or bacon fat) and melt in a dutch oven or stock pot, then saute onions until translucent. Add flour and stir using a whisk for a few seconds, then add chicken stock.
Cook for about 3-5 minutes until it begins to thicken.
Remove from heat and stir in sour cream, salt, and pepper to taste.
Add potatoes and combine.
Serve generously topped with bacon, cheese, and green onions.
:: Find more great recipes for soups in my Recipe Box!