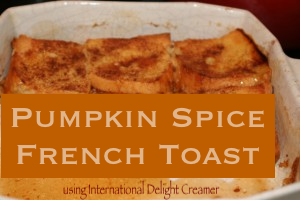 Whenever I have bread that needs to be eaten before it is wasted, I know exactly how to use it: French Toast. My kids never get tired of having French toast for breakfast. Since I know it's something they like, I thought it would be fun to create a recipe that takes French toast to the next level—even creating something that would make it really special for the holidays.
*Scroll down to use print recipe feature and add to your Recipe Box.
You all know how I love my coffee, and how I'm slightly addicted to International Delight's French Vanilla creamer. But did you know they have several seasonal flavors? One that I've been getting close to recently is the Pumpkin Spice. I love pumpkin, and I love coffee, so it seemed a natural pairing. But then I started wondering, How much fun would it be to substitute this great flavored creamer for milk in my French toast? Just an idea—and haven't you found that sometimes the best recipes are the ones that started out as a creative idea, and then took on their own life when you were willing to try something different? I'm sure that when you shared what you had created, you found that there were a lot of people who wanted the recipe.
Try my recipe below for a new holiday breakfast or Christmas brunch treat. This Pumpkin Spice French Toast recipe combines all the flavors of the season—pumpkin, spice, cinnamon, and yummy peaches—together with all the decadence that we love to shower on our family and friends. Indulgent? Absolutely! That's what makes this the perfect holiday treat.
Pumpkin Spice French Toast
Ingredients
1 cup packed brown sugar
½ cup butter
2 Tbs water
1 large can sliced peaches, drained (29 oz)
12 slices day old French bread (3/4 inch thick) – I use sweet Italian bread
5 eggs
1½ cups International Delight Pumpkin Spice Flavored Creamer
1 Tablespoon vanilla extract
Ground cinnamon, sprinkled
Whipped cream (optional)
Syrup (Try real maple syrup!)
Instructions
In a saucepan, bring brown sugar, butter and water to a boil. Reduce heat; simmer for 10 minutes, stirring frequently.
Pour into a greased casserole dish; top with peaches.
Arrange bread over peaches. In a bowl, whisk the eggs, International Delight Pumpkin Spice Flavored Creamer, and vanilla; slowly pour over bread.
Cover and refrigerate for 8 hours or overnight.
Remove from the refrigerator 30 minutes before baking. Sprinkle the cinnamon on top.
Cover and bake at 350 degrees for 20 minutes. Uncover, bake 25 – 30 minutes longer or until the bread is golden brown.
Top with whipped cream and maple syrup.
The International Delight Facebook page shares coupon savings and a chance to share your delight this holiday season.
This is a sponsored conversation written by me on behalf of International Delight. The opinions and text are all mine.