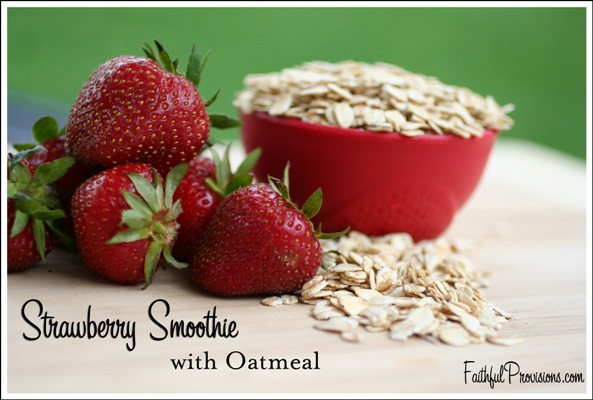 This is a variation my favorite recipe for strawberry smoothie because it has the added health benefits of oatmeal. Besides its unique nutty flavor, when you add the oatmeal you get extra fiber, which is said to lower cholesterol and reduce the risk of heart disease.
Like all fresh strawberry recipes, a smoothie always sounds good to me! We love them for breakfast, but they fit perfectly into a busy afternoon as well. I always have oatmeal on hand, so it's easy to just add it in to my smoothie. It makes for a thicker consistency,  and really, a creamier texture. My kids love these smoothies, and I love that we are all enjoying the nutritional value of oatmeal and fresh strawberries.
Recipe for Strawberry Smoothie with Oatmeal
Serves:
4 servings or 2 large servings
Ingredients
½ cup oats
1 cup frozen strawberries
1 cup frozen banana
1 cup milk (rice, almond, coconut or regular)
1 cup ice (optional if fruit is fresh)
1 tablespoon sugar, honey or agave
Instructions
Combine all ingredients and blend until smooth. Adjust ingredients to your liking. If you like it thicker use less liquid, or add more if you find it is too thick.
Strawberries are not just for smoothies! Find lots more recipes with strawberries here. And if you have lots of strawberries on hand, check out my post, How to Make Strawberry Jam. It's really easy!
Recipe developed by Kelly Hancock ©2010 Faithful Provisions. For personal use only. May not be reproduced, reprinted or distributed for capital gain without prior permission from Kelly Hancock.