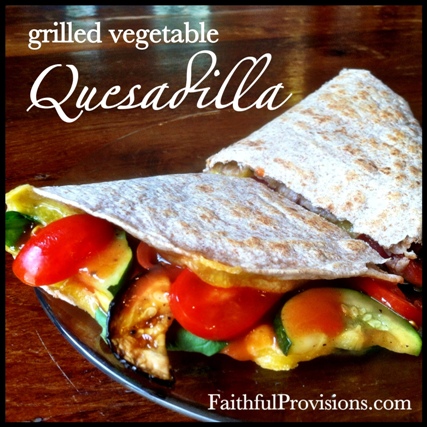 One of my favorite things to make with leftover anything is a quesadilla. We frequently grill out, so we usually have leftover vegetables on hand and even meat. My favorite way to grill vegetables is to use a vegetable basket. But leftovers or not, this Grilled Vegetable Quesadilla is guaranteed to be liked by everyone. Even my picky 6-year-old tried it and loved it!
*Scroll down to use print recipe feature and add to your Recipe Box.
Obviously a grilled vegetable quesadilla has a healthier ring to it, but to add more nutrition I serve it on organic whole wheat tortillas. I find them at my local Whole Foods for about $1.99 per pack, and I feel like it is well worth it. When they go on sale, I stockpile a bunch and freeze them for later. We go through about a pack a week, so this is definitely a pantry and fridge staple around our house.
While you can grill the vegetables and then grill the quesadilla while you have it on, you can also take it inside and just use a large pan or electric griddle.
I encourage you to pick your favorite grilling vegetables for stuffing your quesadilla. Some of my favorite grilling vegetables are onions, mushrooms and zucchini. But here are some others you might try:
red peppers
bell peppers
eggplant
squash
corn
spinach
tomatoes
What are your favorite grilling vegetables?
My favorite part is the cheese, so be generous with it and just pick your favorite flavor, or better yet, use whatever you have on hand. I think grilled vegetables taste wonderful with Monterey Jack. That said, I used sharp cheddar here…because that was what I had available.
Lastly, no quesadilla would be complete without my number one favorite sauce, Frank's RedHot Sauce! I garnish with fresh diced tomatoes and several generous shakes of Frank's. That makes it perfect.
Grilled Quesadillas
Ingredients
4-6 whole wheat tortillas
1 zucchini, sliced into spears
1 onion, thinly sliced
1 cup sliced mushrooms
salt and pepper
seasoning salt (optional)
1-2 tablespoons olive oil
1-2 cups shredded cheese (cheddar or Monterey Jack)
Instructions
Toss zucchini, onion and mushrooms with oil, and sprinkle with salt and pepper (or seasoning salt). Set aside in bowl.
Fire up the grill. Using a vegetable grill basket, spray grill basket with oil and place on grill to heat up for about 3 minutes. Once grill basket is hot, pour in the vegetables.
Cook in basket, turning frequently for 7-10 minutes or until soft and cooked through.
Remove from grill pan and put back into original bowl.
Spray one side of tortilla with oil and place directly on grill (or electric griddle) and top generously with cheese, then place about 1 cup of grilled vegetables evenly over.
Top with another tortilla. After cheese starts to melt, turn over quesadilla for a few more minutes.
Remove from grill, slice into 6 triangles and serve.
You might also like:
Recipe developed by Kelly Hancock ©2010 Faithful Provisions. For personal use only. May not be reproduced, reprinted or distributed for capital gain without prior permission from Kelly Hancock.