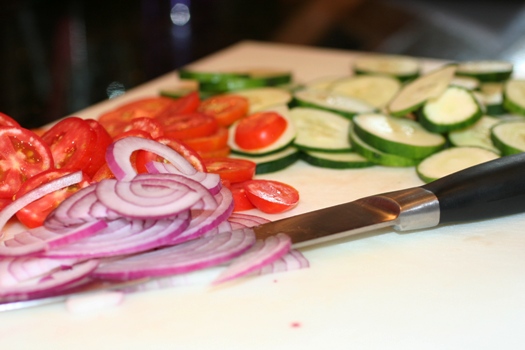 My mom made this a lot growing up and it is a great way to use all those summer veggies, plus it is cool and refreshing on a hot day. I would love seeing a bowl of it marinating in the fridge on a hot summer afternoon. I love all the fresh flavors of summer veggies, and the apple cider vinegar gives it an added zing.
COOK'S TIP: You can easily morph this into a creamy cucumber yogurt salad recipe when you spoon it on some plain yogurt and sprinkle it with fresh dill.
Cucumber Salad
Ingredients
2 cucumbers, sliced
2 beefsteak-style tomatoes, quartered (or Roma tomatoes, sliced)
½ red onion, thinly sliced
1 cup apple cider vinegar
½ cup sugar (I used turbinado)
1 cup water
Sea salt and fresh ground black pepper, to taste
Instructions
Combine sugar (or turbinado) and water in small sauce pan and dissolve sugar.
Add vinegar and let cool.
Add all ingredients in a glass or plastic bowl to marinate.
Serve after 2-3 hours.
Recipe developed by Kelly Hancock ©2010 Faithful Provisions. For personal use only. May not be reproduced, reprinted or distributed for capital gain without prior permission from Kelly Hancock.