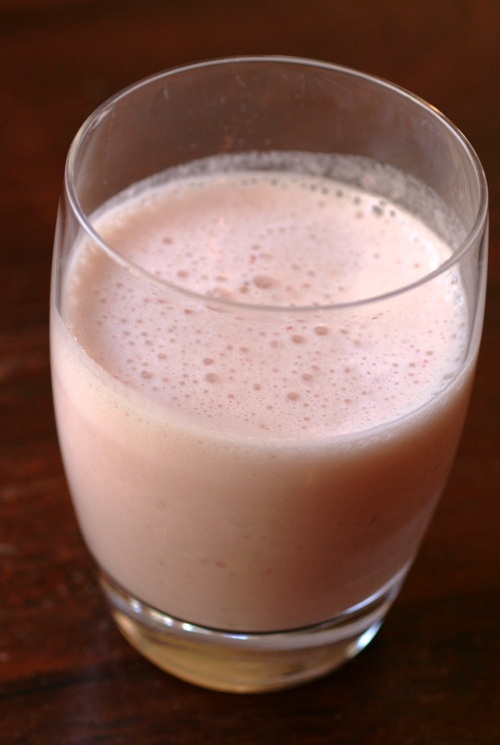 There are so many different ways you can go when you are making a smoothie. (Pictured above is my one of my favorites, any variation of Strawberry Banana Smoothie recipes.) You can use:
Yogurt or protein powder
Milk or juice
Sugar or honey
It really is all about your personal preferences.  Below is a basic recipe I use when making our morning smoothies. We even do these a lot for snacks in the afternoon.  You can add so many different ingredients to give these a "power punch" of health.
This is the number one best way I get healthy foods into my kids. They love my recipe for Strawberry Smoothie with Oatmeal, for example, and I love that I am getting a good dose of fiber into them along with the great creamy flavor they love. I will try to start documenting the different types of smoothies we make, like Peanut Butter Banana and Peach Pie Smoothies, for you so you can make them too! Yum. Plus, if you don't want the oatmeal, you'll like my Easy Strawberry Smoothie recipe HERE.
Now, my favorite and easiest way to make these is with my Magic Bullet.  If you don't have one and you like to make smoothies, I would HIGHLY recommend looking into it. They are amazing, offer easy clean up, and take up very little space–definitely my kind of appliance.
Here are a few things you can add to the recipe below to add lots of great nutrients without ever changing the taste!
Flax Seed – Ground or Oil (ground gives it a little "nutty" taste)
Spinach Juice – just a little adds a big punch!
Whey – see my post about all the ways to use "whey"
Pureed Vegetables – carrots, cauliflower, beets and more!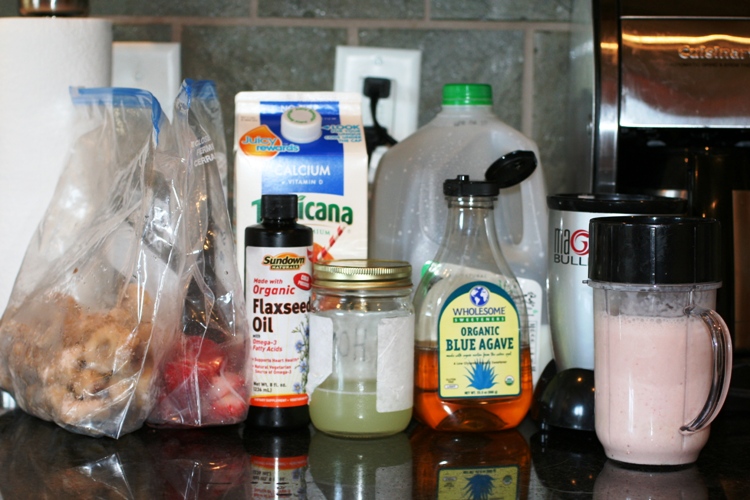 Strawberry Banana Smoothie
Ingredients
1 cup milk
½ cup orange juice
2-3 frozen strawberries
2-3 frozen banana pieces
sweetener (Blue Agave, Honey, Sugar)
1 scoop protein powder (like Met-Rx) or ½ cup favorite yogurt
Instructions
Combine all ingredients and blend until smooth. Adjust ingredients to your liking. If you like it thicker use less liquid, or add more if you find it is too thick.
::Looking for a homemade strawberry ice cream recipe? Stay tuned: I've got one coming soon!
Recipe developed by Kelly Hancock ©2010 Faithful Provisions. For personal use only. May not be reproduced, reprinted or distributed for capital gain without prior permission from Kelly Hancock.