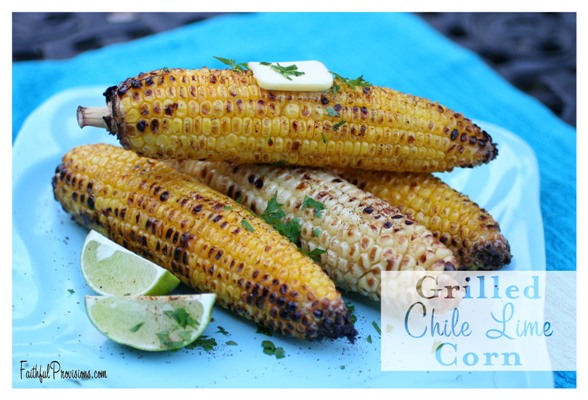 Grilled corn. It is greatly underestimated–not to mention overlooked–as a primary way to cook this wonderful vegetable. I love to grill lots of ears at a time when it is in season, then freeze it to use all winter long in salads and soups.
This recipe for Grilled Chile Lime Corn is so simple, yet you'll find that deep and refreshing flavors come from grilling corn on the cob. I hope the name of this grilled corn recipe got your attention because it should! It sounds delicious, and it lives up to its name: corn, freshly grilled, and sprinkled with chile and lime. Personally, I like to cut mine off the cob to eat it. Then I will save the leftovers for salads and dips, like a Cowboy Caviar (recipe coming soon!) which has lots of black beans and other salsa-type spices!

Grilled Chile Lime Corn
Ingredients
fresh corn cobs, shucked and cleaned
olive oil
kosher salt and fresh ground pepper
chili powder
limes, quartered
Instructions
Rub corn with olive oil and sprinkle with salt and pepper. Place on the grill on medium for about 5 minutes or until done. Remove from grill and sprinkle with chili powder and fresh limes.
I like to cut this off the cobb. I put it in the center of a bundt pan to hold it while I cut, or cut corn in half and sit up on flat side to cut on cutting board.
Recipe developed by Kelly Hancock ©2010 Faithful Provisions. For personal use only. May not be reproduced, reprinted or distributed for capital gain without prior permission from Kelly Hancock.