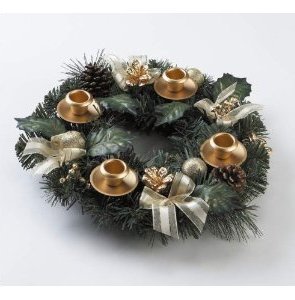 If you're celebrating Advent this year, then you may be using an Advent wreath. Did you know that the symbolism of the Advent wreath itself if just as rich in meaning as the candles that go in it?
The Advent Wreath Meaning
The Advent wreath meaning is a further explanation of what Advent is all about. Everything about Advent means something, just as everything about Christ's coming was richi in meaning and significance. Made of evergreen branches, an Advent wreath is woven together in a never-ending circular shape. Depending on what kind of evergreen branches are used, they can tell a story as well.
A Holly Wreath – According to some legends, the Cross was made from the wood of a holly tree.
A Laurel Wreath – The laurel is said to be the symbol of victory over suffering and injustice.
A Pine Wreath – The pine tree represents everlasting life.
A Cedar Wreath -Cedar trees are recognized as the symbol of steadiness and continuity.
The wreath's shape, a circle, has no beginning or end, like Christ, Who is the Alpha and Omega, and Who has no beginning or end.
"I am the Alpha and the Omega–the beginning and the end," says the Lord God. "I am the one who is, who always was, and who is still to come–the Almighty One." (Revelation 1:8)
Of course, there are many options for doing a non-traditional Advent wreath, or just using what you have on hand to create your own Advent celebration. For example, you could put your four candles on a mirrored or glass tray.
:: You can find the Advent Wreath pictured above on Amazon HERE.
Do you celebrate Advent? Do you use a traditional wreath? Please share your creative ideas for Advent with the Faithful Provisions community.
Learn more about what Advent is and how to celebrate it on Faithful Provisions!