This week I got one pint of organic blackberries in my CSA.  But it was not enough to make a blackberry pie, so I made a compote to put over ice cream!  If you're not a fan of blackberries, you could use raspberries, blueberries or strawberries.
Vanilla Ice Cream with Blackberry Compote
1 pint blackberries (or other fresh berries)
1/4 cup turbinado ( or 1/3 cup sugar)
vanilla ice cream
Put blackberries and turbinado/sugar in a small saucepan on medium heat.  Stir and gently mash blackberries to release the juices.  Heat for about 5 minutes on medium to low.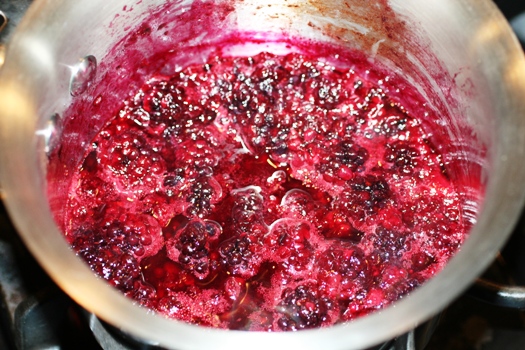 Serve over ice cream, pancakes, waffles, cheesecake – you name it!
Print Recipe: Click on the green "print friendly" icon at the bottom of this post, and check "remove images" for a printable version.
Recipe developed by Kelly Hancock ©2010 Faithful Provisions. For personal use only. May not be reproduced, reprinted or distributed for capital gain without prior permission from Kelly Hancock.