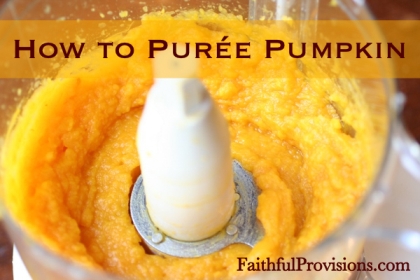 If you're making just about anything with pumpkin this season, you want to learn how to puree pumpkin. It's not difficult at all, and once you've tasted the difference in your own homemade pumpkin puree, you will have second thoughts about the "convenience" of canned pumpkin.
*Scroll down to use print recipe feature and add to your Recipe Box.
Pureed pumpkin is great for all kinds of recipes. After roasting your pumpkin, you have two choices now that the flesh is soft. You can scoop it out and mash it in a bowl for pumpkin pie, but if you're making muffins or cakes, you want a pumpkin puree.
Benefits of Pure Pumpkin Puree over Canned
The benefits of pure pumpkin puree over canned come down to two things: nutrients and taste. When a food is in season and fresh, you are getting all of its nutritional value. And you really do have to taste the difference between fresh and canned to know that fresh far exceeds anything you may have gotten used to with canned. If you've always relied on a canned pumpkin such as Libby's, give making your own puree a shot. It's a great alternative, especially if you find pumpkin that is in season, organic and fresh. I get small sweet pumpkins in my CSA box each week this time of year, so I use them to make my puree.
How to Puree Pumpkin
Ingredients
Use a smaller sized pumpkin for the best pumpkin puree.
Instructions
Slice off the stem.
Cut into quarters.
Remove seeds (Save for later!) and stringy pulp.
Roast flesh side up in a 350 degree oven for about 45 minutes.
Allow to cool.
Peel or cut off skin.
Place softened pumpkin into a food processor or blender to puree.
Freeze in freezer zipper bags in 1 or 2 cup increments. Remember to label your bags with a description of the contents, the date, and the amount.
Pumpkin Recipes for Your Puree
Homemade Pumpkin Vanilla Latte. Add about 1 1/2 to 2 teaspoons of the pumpkin puree to my recipe for a Homemade Vanilla Latte HERE to make a Homemade Pumpkin Vanilla Latte. Sprinkle with cinnamon.
Pumpkin Pudding. Add pumpkin puree into vanilla or butterscotch pudding to enjoy a more nutritious treat.
Smoothies. A little pumpkin puree in your smoothie creates an even creamier texture, and the taste is not overwhelming. Try adding it to a banana smoothie, or my Chocolate Peanut Butter Banana smoothie recipe HERE.
Learn more about how you can cook and prepare pumpkin HERE.
More recipes for pumpkin puree are coming soon on Faithful Provisions!