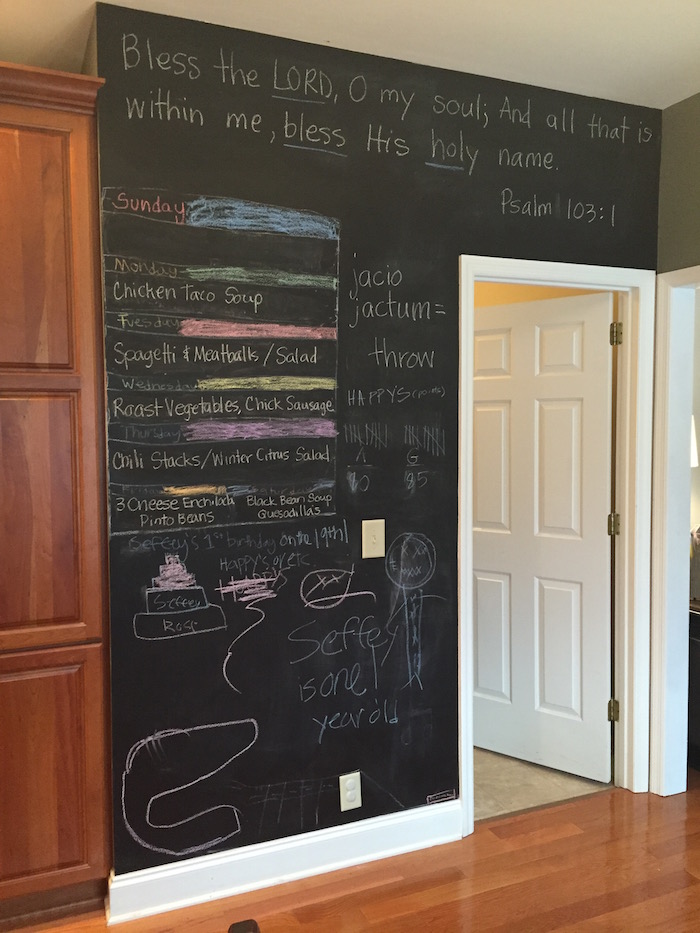 Here is my meal plan for this week. Are you shocked? Yep, it's been a LONG time since I have posted anything about our meal plans here, but I am telling you having a meal plan every day has CHANGED MY LIFE! I forget how important meal planning is until it almost drowns me trying to prepare for each meal on the fly.
A few months ago, we painted a wall in our kitchen with chalk board paint and it has been wonderful. Each week it is updated with our meal plan, our verse of the week and I even use it to keep track of our "point system" for character quality training. I might need to do a post on that later!
If you need a little direction on how to easily and quickly meal plan, checkout my post below on 5 Easy Meal Planning Tips. But one of the most important things I do is to simple check the calendar and see what we need each night.
Here is a list of some of the meals I will be planning on having this week. Usually I slot them into certain days, but give myself room to change it up a bit!
Meatballs and Spiraled Sweet Potatoes – these spiraled sweet potatoes have changed my life. I just use frozen made ahead meat balls, and make a simple tomato sauce by sautéing red onions and garlic. Super simple dinner.
Meatball Subs with Peppers and Onions – just using leftover meatballs and sauce to make an easy dinner this week.
Black Bean Soup with Cheese Quesadillas – I love making this and using leftovers for another night! If there are any peppers and onions left from the meatball subs, I'll add those to the quesadillas.
Roasted Chicken, Skillet Green Beans and Brown Rice
Burrito Bowls – Using leftover black bean soup, roasted chicken, peppers and onions, we will have a really tasty leftover meal. This is perfect to just dump leftovers into, extra rice, quinoa or more. We top it like a burrito, with cheese, avocado, salsa and sour cream.
In addition, for snacks and breakfast/lunch we will just use leftovers in the fridge and my new addition.
Raw Apple Crisp – my new addiction!
Here are a few more meal planning resources that might be helpful. 
Weekly Meal Planning Template Download (you can even type in and print!)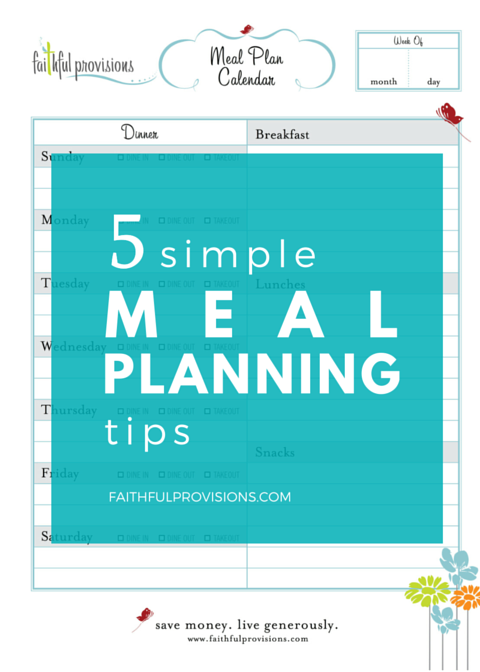 My Recipe Box Page – full of over 400+ money-saving recipes !