This Sweet Potato Casserole recipe is a holiday favorite, and one that family counts on me to make every year. But sweet potatoes are so healthy and loaded with nutrients that I really should make this more often.
There are lots of variations of this traditional sweet potato casserole, but I think what you'll like about mine is that it's really easy to make. The sweet, crunchy sugary topping makes this eligible for the dessert table, but it's always a winner no matter where you put it!
Sweet Potato Casserole
Ingredients
3 cups sweet potatoes, mashed (4 large) or 3-15oz cans sweet potatoes (yams)
½ cup sugar
2 eggs, beaten
½ cup milk
¼ cup butter, melted
1 tsp vanilla
TOPPING
⅓ cup butter, melted
1 cup brown sugar
⅓ cup flour
1 cup chopped pecans
Instructions
Peel, boil, and mash potatoes. (While potatoes are boiling, combine all topping ingredients in a bowl and set to the side.)
On medium speed, beat in eggs, milk, butter, sugar, and vanilla with potatoes.
Spread mixture in 9x13 pan
Spread topping evenly over the top.
Cook at 350 degrees for 25 to 30 minutes.
Also try:
Love sweet potatoes? Then you might like these recipes too!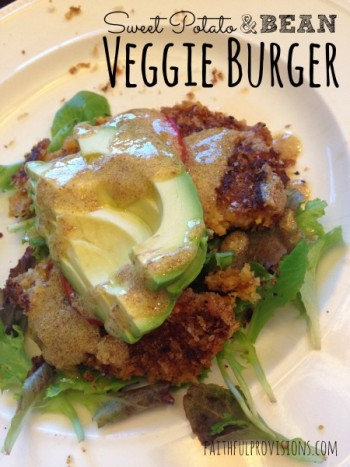 Sweet Potato White Bean Veggie Burger