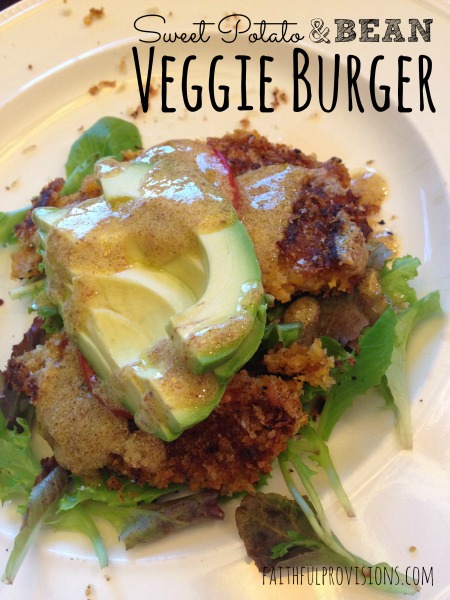 These Sweet Potato White Bean Veggie Burgers are super easy to make. They're super tasty and a great vegetarian option if you're craving a burger. I like to experiment a bit in the kitchen, but here is my basic recipe for these burgers. You can personalize it with some of your favorite ingredients and nutritional extras like nutritional yeast, hemp seeds and cayenne pepper for your family's tastes. You could could even change it up a bit by using black beans instead of white beans. It wouldn't look as pretty, but it would taste amazing if you added some southwest spices!
Depending on your diet, you can serve this a few different ways. My kids ate it without the bun and dipped it in a ketchup/mustard mixture. For the adults, I served it over a huge bed of lettuce and topped it with avocado, tomato slices and a dijon vinaigrette. If you choose to serve it as a traditional burger, it would be fantastic with fresh red onion, tomatoes and lots of fresh avocado. You could also add some dijon mustard to give it a little kick.
White Bean & Sweet Potato Veggie Burgers
Ingredients
3 cups (2 cans) white beans (northern or cannellini), drained and rinsed
2 cups mashed (1 large or 2 medium) sweet potato, baked/peeled/mashed
¼ cup flax seed meal
2 tablespoons tahini (optional)
1 tablespoon favorite spice (lemon pepper, cajun, southwest)
1 teaspoon salt/pepper
3-4 cups of panko breadcrumbs
Olive or Safflower oil (if you fry in pan)
Dijon Dressing
1 tablespoon dijon mustard
1 tablespoon olive oil
1 teaspoon red wine vinegar
salt/pepper, to taste
Instructions
For the Burgers:
In a large mixing bowl, combine cooked & peeled sweet potatoes and drained beans. Mash beans and potato together until it is a rough texture. Add in flax seed, tahini, and spices. Mix until combined.
Form ⅓ to ¼ cup sized patties from mixture. Heavily coat patties in Panko crumbs.
Heat large skillet (I used cast iron) with about ¼ inch of oil on high heat. Once heated, drop the patties in the pan. Cook until brown on both sides. *You could also bake. If baking, use less Panko. If pan-frying, heat another tbsp oil before the next batch.
Transfer cooked patties to a dish lined with a paper towel. Cool for a few minutes before serving.
Serve on bed of lettuce or toasted bun with lots of toppings, like mayonnaise, sriracha, tomato, red onion, and avocado!
Baking Instructions: Heat oven to 350 degrees and cook about 12 minutes, or until golden brown.
For the Dijon Dressing:
In a medium bowl, blend together the dijon mustard, olive oil & red wine vinegar.
Drizzle over salad or sandwich.
Love sweet potatoes? Then you might like these recipes too!